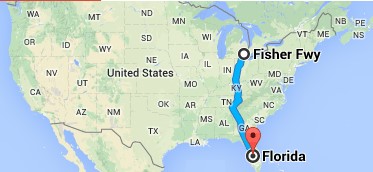 As winter approaches, many residents in the northernmost states pack up and head down south for the winter. For some, this may just be a temporary long distance relocation. For others, it may be permanent with the help of a long distance move by a professional mover. Either way, if you are moving south, we'll ship your motorcycle! The weather is warmer, and riding season is all year long! Why would you want to leave your motorcycle in storage all winter when you can ship it down i-75 to Florida? Sure, you can try and ride your motorcycle down to your destination, but riding in the winter can be risky. The best, and safest option to transport your motorcycle is to ship your motorcycle during the winter.
For over 20 years Powersports Shipping has been transporting motorcycles or other power sport vehicles up and down the I-75 corridor. From Detroit, MI all the way down to Miami Lakes, FL and everywhere in between. Remember, we said motorcycles AND other powersport vehicles. So, what does that include?
What Do We Ship?
We ship a variety of motorcycles or power sport vehicles along I-75. Whether you are selling your used motorcycle out of state during the winter, or you just need someone to transport your motorcycle. Let us help. We ship all motorcycles or powersport vehicles including:
Boats
Watercraft
Motorcycles
ATV's or UTV's
Don't see what you want to ship? Contact us now!