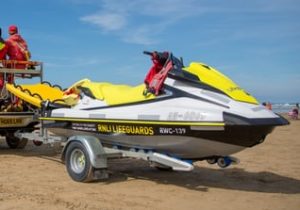 Thinking of heading North to one of Michigan's scenic great lakes for the summer? Destinations along I-75 such as Bay City and Mackinac Islands, MI are hot spots for summer getaways. Located on Lake Huron, families enjoy bringing their personal watercrafts such as boats and jet skis to enjoy some fun in the sun. I-75 runs by inland lakes as well. Houghton Lake is a big lake popular with water sports.
Professional watercraft shipping is available to help you! Let us help make your summer getaway more enjoyable by taking away the hassle of hauling the boat or loading up the trailer. We will ship boats, jet skis, wave runners, or other watercraft along I-75 up north! When you are ready to travel back down south, we will ship your watercraft vehicles south.
Shipping Watercraft Across Country
Let's say you live along I-75 in Georgia. There isn't the kind of lakes there are in Michigan so if you're not going to sell your Jetski or Waverunner in Georgia, you might just want to ship it north to Michigan to get some real freshwater action.
Hauling a boat or a trailer with Jet Skis, WaveRunners, or Seadoo's on it can be difficult, especially if you are a new owner and are not experienced in watercraft shipping. There are many things that can go wrong if you are unsure what you are doing when towing a boat or watercraft.
Tipping, detachment, and many accidents occur because of improper towing. Even towing smaller trailers for jet skits or ATVs can be difficult for someone who is new to hauling a load. All of the extra stress and hassle involved in towing your personal watercraft can be avoided by hiring a professional experienced watercraft shipping company like Power Sports Shipping.
To ensure that we keep you at ease as we ship your watercraft, we have a variety of standards that we follow. Your boat will be inspected prior to loading onto our trailers and we will take photos detailing any abnormalities. You do not need to drain batteries or gas or package anything ahead of time. We will do all the work. You can find our pre-shipping prep list here.  We have a variety of trailer sizes to allow us to fulfill a variety of shipping options so that we can ship a variety of boats, SeaDoo's, Wave Runners, and even ATVs.
Selling A Boat
If you have recently selling a boat or purchased a watercraft, you may also contact us for your delivery or shipping needs. Anywhere along the I-75 corridor falls within our area of service. If you are unsure a specific area is within our shipping service area, contact us today. We are more than happy to help you ship your personal watercraft.
Rev. 5/19/22