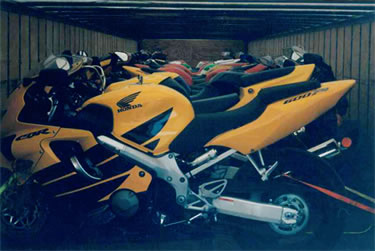 Well, it's officially spring, even though right now it feels a lot like summer!  Record high temperatures all over the US have put the clamp on winter and are seemingly skipping us past spring.  We still expect some cooler weather with a lot of wind and rain, but the way this last winter went it sure looks like we have a shot to skip that late season s**w.
Shipping This Spring
If you are still down south from a trip you might be thinking about coming north, or if you live in Florida, Texas, Georgia, etc. and are coming north for the spring/summer we can save you a considerable amount of cash on a motorcycle shipping, or transporting your ATV,  or even your riding lawn mower for that matter.
At Powersports Shipping, we have been in the Powersports business for over three decades. Also, we know exactly how to carefully handle any of your vehicles. Our safe and secure trailers and experienced drivers can deliver your vehicles on time and safely.  Whether you are snowbirds coming home after a winter in Florida or just a family taking a vacation we can help.
Traveling and transporting an ATV or motorcycle to use while camping can be a real pain. Why bother when you can hire us to deliver them for you.  As soon as you get to your destination we will be there with your vehicles for you to use. Finally, give us a call today at 1-800-963-9216 or use our easy form to book a delivery.