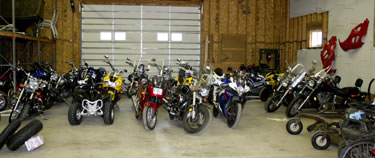 Do you currently live in the Florida or Georgia area and are thinking about traveling up north for the summertime? Towing your own Powersports vehicles can get annoying, especially if you do not have a proper vehicle to tow them with. If you would like to enjoy the great outdoors in Michigan, or the fun mountain trails in Tennessee but do not have the means to ship your motorcycle or ATV then contact Powersports Shipping.
Need help shipping your motorcycle to where you're going to be? No worries. Here at Power Sports Shipping, we can ship your motorcycle, ATV, or Powersports vehicle anywhere within the I-75 corridor! Powersports Shipping is an easy and safe way to ship your vehicles without the worry and hassle.
We guarantee you that your shipping experience will be worth it. We have shipped many vehicles up and down the I-75 and ensure you that it is safe. With over 20+ years of experience, we are reliable and trustworthy when it comes to shipping your motorcycle.
An Alternative to Shipping is Selling Your Powersport Vehicle!
Looking for an alternative to shipping your motorcycle up north? Well, SELLUSYOURBIKE.com will buy it. And, they will pick up for free! For over 25 years they've been buying motorcycles and ATVs. Check out what they buy or get a Free Quote if you want to sell instead of ship.
That being said, please Contact us or call 1-800-963-9216 for shipping your motorcycle, watercraft, ATV or any power sport vehicle north! We can help you!
rev. apr 2019